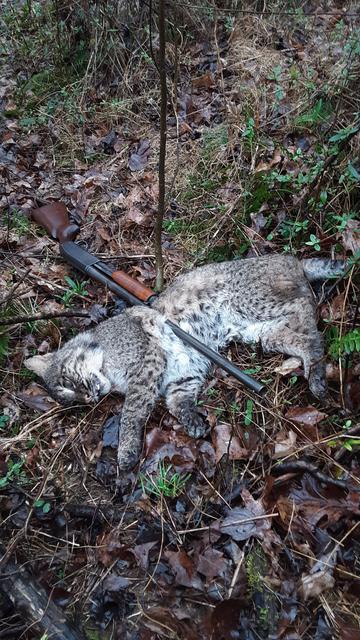 The terror of my farm. I'm having her stuffed instead of eating her... which makes me feel kind of bad. She has taken several hundreds of dollars worth of ducks from me during broad daylight. She also fought my lab once when he cornered her.
#1) Good riddance
#2) Bobcat season ends next week
#3) I get to have a museum quality "live mount" in my office
#4) My animals can go about their business
When our primary source of food is our family farm, we take very serious the threat of predatory loss. I hate to know her meat will not be eaten, but I do not think I can pass this opportunity for a stuffed bobcat prowling from atop my pipe case. I'm going to ask the taxidermist if he can salvage the meat, but I'm sure the answer will be a resounding no, likely due to licensing restrictions or whatever. I hear I'm not missing out on much by way of flavor. Kinda "porky" my Trapper friends tell me.