Member in Good Standing
Posts: 586
Joined: Tue Jul 24, 2018 2:56 am
In 1946 he was invited by the organizers of the 50th Boston Marathon. He decides to take part, although he has been absent from sporting activities for a long time.
The Boston Marathon was one of the most difficult of the time. The ''favori'' for the race of 1946 was the English Kenneth Bailey and the American (winner of the previous year) Johnny Kelly. Nobody counted the suffering from the hunger of the German Occupation of Greece (1941-45) weak Stelios Kyriakidis.
Kyriakides was determined to run and nothing could stop him. He signs a responsible statement that he is aware of the danger and is preparing for the Marathon but even the doctors had objections to his participation while the newspapers ironically called him: "the skinny Greek".
It started slowly and in the middle of the route it accelerated. Because he had not run a marathon run for more than six years he started making a power saving until midway through. And somewhere there is what he feels it has the strength to achieve its goal. He passed one athlete after another. It ran for all the Greeks and the victory was one-way for him!
Just a few miles before the end, Kyriakides listens to a Greek who calls out to him: "For Greece, my Stelios. For your children. "
His words put wings on his feet. He picks up all his physical reserves, passes champion Johnny Kelly and finishes first shouting: "For Greece". His time was 2:29:27
When Johnny Kelly was asked "how did he lose from this skinny Greek?", He replied: "Only me lost? No one was able to win it. I was running for myself and he was running for a whole Nation."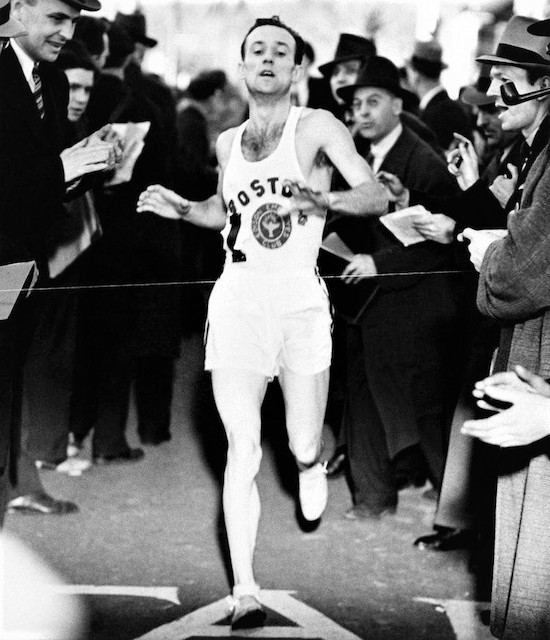 [Note the pipe smoker on the right side of the finish-line]
I am smoking 4noggins Double Fantasy, double espresso plus cool water beside me.
SidStavros